Kitesurf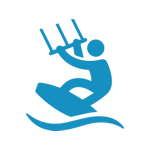 Would you like to get into the Kite world ? This kind of course is the right approach to the practice of Kitesurfing. The teaching programmes for this as for following courses, are the same adopted from F.I.V. and VDWS that provides for an easy learning of this wonderful sport , completely safe for you and for other people.
The course consists of : - theory, - right assembly of the rigging, - body drag on the water. In short, a course suitable to anyone who is still uncertain whether to take up or not this discipline.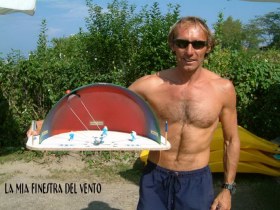 IMPORTANT NOTICE
In Sirmione, saw the absolute unpredictability of the wind suitable for the smooth running of the courses, we accept registrations only by those who, at any time of the day notified by us to call, to be able to quickly reach (30 minutes-1 hour) the headquarters of the school.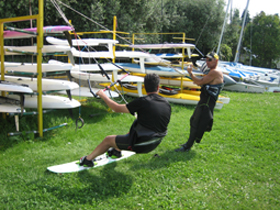 Would you like to become a real "Kiter" ? This course is for you.
Besides the basic knowledge, the teaching programme provides for explanation of the kite throwing from water, starting , and first sailing points.
Advanced course ( Individual )
If you cannot give up the Kite any more, this course is aimed to make you autonomous; then, closer knowledge of points of sailing and tack changes, in order to be able to get out and to go back safely, at the same starting point ; first technical jumping basics.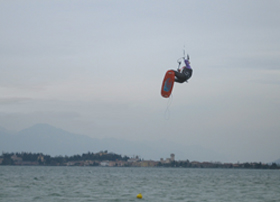 FARES 2022
BASIC COURSE / 4 HOURS
€. 290,00
BEGINNERS COURSE / 6 HOURS
€. 360,00
ADVANCED COURSE

(private)

1

hour

€. 100,00

BASIC FIV - VDWS LICENCE
€. 30,00